Do you feel energized, happy or inspired when you look at photos of homes decorated in the farmhouse style? Are you a fan of either the charming, old-fashioned vintage farmhouse style — or the more up-to-date, modern farmhouse style popularized by Chip and Joanna Gaines? Would you be interested in adding some farmhouse-style accents to your own home decor? And would you find it fulfilling to use your own two hands to quilt and sew those accents? If so, there's a brand new quilting pattern book you're going to want to take a look at. It's called Farmhouse-Style Quilting.
This book is filled with gorgeous patterns you can use for making a delightful variety of quilted home accessories including bed quilts, a baby quilt, pillows, a table runner and more.
Quilting Skill Level: Beginner Through Intermediate
These quilting patterns aren't too complex; some of them are rated for total beginners, some of them are easy quilting patterns and some of them are intermediate-level quilting patterns. So, even if you've never quilted before, there are projects in this book that you could most likely manage to make if you are willing to put a little effort into trying. Why not give it a try?
And if you're already an experienced quilter, these patterns will probably be a piece o' cake for you.
What You Need to Know About This Craft Pattern Book:
Publisher: Annie's
Contributors:
The following quilt designers contributed patterns to this book:
Sandi Colwell
Holly Daniels
Karen Dumont
Susan Emory (Swirly Girls Design)
Bev Getschel
Cathey Laird (Cathey Marie Designs)
Chris Malone
Tricia Lynn Maloney
Nancy Walhout Recker
Nancy Scott
Kristine Smith
ISBN 13: 978-1640250758
ISBN 10: 1640250751
Book Formats:
This book is available in the following formats:
Number of Pages: 48 pages
Topics Covered in This Book:
Quilting basics (this section is brief, but helpful): Quilt backing and batting; quilting; binding the quilt
Stitching a set-in or Y-seam
How to do prairie points
Raw-Edge fusible applique
Supplies you will need
Plus quilting patterns and piecing instructions for making the 14 different quilting projects pictured below.
The Focus of This Book:
This book is dedicated to giving you a variety of 14 quilting patterns, all of which are curated around a central theme of farmhouse style design. But, you don't have to live out in the country or actually own a farmhouse for these designs to work beautifully in your home. Whether you live in an apartment or a spectacular estate, or any type of residence in between, these lovely quilts could add personality and charm to your decor.
Craft Projects Included in This Book:
Mama's Scrap Basket Quilting Pattern
Chicken Wire Quilt Pattern: A Quilt Featuring Charming Hexagon Motifs
Farm Fancy Pillows
You can choose to make these simple, fresh pillows using striped ticking fabric, as pictured — but you aren't limited to using ticking stripes. Imagine how these pillows could look if you were to make them using florals or other types of prints. There are so many possibilities! These are intermediate-level quilting patterns.
Beginner-Friendly Country Stars Table Runner Quilting Pattern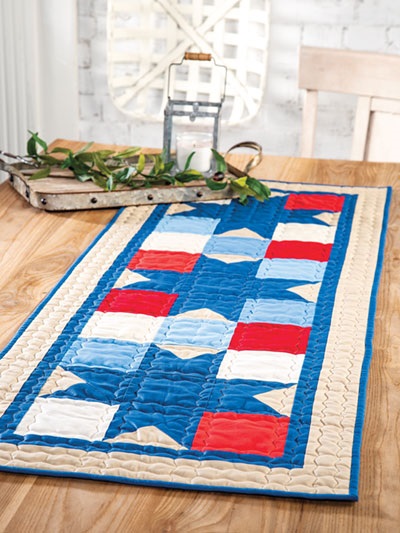 Starry Paths Quilted Table Runner
Bits and Pieces Baby Quilt Pattern: Nine-Patch Plus Appliqued Flower Designs
Barn Beauty
Country Comfort Quilt Pattern for Beginners
Farm Fresh Bed Runner Quilting Pattern for Beginners
Wash Day Bed Quilt Pattern for Beginners
Sunny Side Up Table Topper — Beginner Level Quilting Pattern
Red-Letter Day Placemats
The Best Things About This Book
The quilting patterns are obviously the most compelling reason you'd want to buy this book. If you're looking for patterns for making a variety of designs you can use throughout your home, in different rooms, this book is quite likely to be a worthwhile addition to your library.
This book includes clear, straightforward, simple quilt piecing instructions for each of the featured projects. It includes lots of helpful diagrams to empower you to successfully reproduce these quilts for yourself.
Whenever necessary, the book also includes the line-art templates you'll need to make these projects. For example, the rooster pattern, flower pattern and the hexagon patterns are included as line art diagrams in the book; you can reproduce these as needed to make your projects. In the other projects, the piecing requires simple shapes such as squares, rectangles and triangles, which you can easily make for yourself without needing to be provided with special templates.
The styling in this book is done exceptionally well. The projects are presented beautifully. The team at Annie's chose up-to-date, harmonious color palettes to craft each of these projects.
Overall, I think this book is exceptionally inspiring. Every time I look at it, it makes me feel excited to dig into my scrap stash and get busy cutting and piecing. If you're drawn to the farmhouse style, I'm betting you'll feel similarly inspired, too.
I think this book offers you superior value for its asking price.
Why?
Because this book gives you the opportunity to dig in and get quilting quickly, without having to spend massive quantities of time planning out your quilt designs. The project designers obviously put a lot of time, effort and brainpower into planning out these designs for you. If you want to spend your time planning out a quilt, you could — and in that case, this book probably wouldn't be an essential purchase for you. But if you just want to make a pretty quilt, and you don't want to spend weeks of your time fussing over how to go about it, I think this book is really a steal.
What you're trading here is a small amount of money, and in return you're getting the collective brainpower and efforts of 11 different experienced quilt designers (plus the efforts of the entire editorial team supporting them). As you can imagine, this has the potential to save you a MASSIVE amount of time and effort. In short, if you'd rather spend your time quilting than designing — or if you're in a hurry to just have a pretty finished quilt to use, enjoy or gift to someone else — I think you're likely to agree this book is a worthwhile purchase.
Things to Be Aware of Before You Buy This Book
At only 48 pages long, with concise writing, this book is a quick and easy read.
However, the tradeoff is that this is not a comprehensive quilting book. It doesn't give you in-depth instructions for quilting these projects. It also doesn't cover every last thing you might want to know about quilting. This book is focused completely on giving you instructions for how to make the specific projects mentioned above — and, in particular, how to piece them together. If you're in need of a general, comprehensive quilting techniques book, this book isn't ideal for that purpose.
Conclusion
This is a thoroughly charming book, and I'm delighted to recommend it to other quilters of all skill levels, from beginners on up. I think any quilter who enjoys farmhouse style or country style decorating will be enchanted by this book.
Where to Buy the Farmhouse Style Quilting Book:
More Quilting and Sewing
More Crafts
This page was last updated on 7-22-2023.
>