Are you in search of different crochet stitches that are pretty to look at and interesting to work on? Perhaps you'd like to customize your own crocheted blankets or other projects, but you don't want to have to design your stitch patterns entirely from scratch. If you ever have a need for a whole bunch of different crochet stitch instructions, there's a brand new product I think you'll be excited to know about. It's called 500+ Crochet Stitches With CD .
Annie's Catalog is the publisher behind this product. Annie's is well known for their popular craft patterns and books, and their crochet stitch dictionaries are particularly popular. I've reviewed several of their books, and I think they're great!
But you know what's better than having one of Annie's stitch dictionaries? Having access to a whole bunch of them in one spot!
Check Out Some of the Crochet Stitch Patterns Included on the CD-Rom: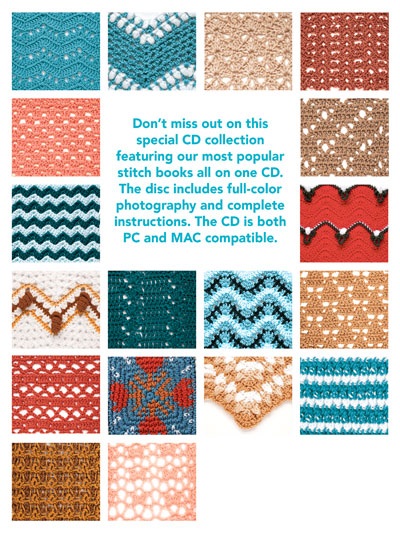 What makes this new product so remarkable: It's a bundle that includes SEVEN of Annie's most popular stitch books on one convenient CD-rom that's both PC and Mac compatible. On top of that, you also get a crochet starter guide featuring 2 crochet blanket patterns plus basic crochet instructions. The crochet starter guide is in paperback format; the books on the CD-Rom are in PDF format.
Here's More Info About Some of the Books You'll Find on The CD-Rom:
81 Crochet Stitch Patterns
This book includes 81 lovely and interesting crochet stitch patterns. It also patterns and instructions for using these stitches to create 2 different sampler-style blankets, both of which are absolutely gorgeous. I want to make both of them! I think other crocheters are likely to find them appealing too.
These stitches and patterns were designed by Darla Sims, Susan Lowman and other designers.
Single Crochet Sampler Afghan from A to Z by Bendy Carter
This is another book featuring different stitches made up into different blocks that are all intended to work together to make a sampler afghan.
I love ALL the books in this collection — but this is one that I find especially inspiring.
In all honesty, the book looks a little dated — and so does the finished afghan presented in it.
BUT most of the stitches and the blocks themselves are fabulous — and timeless. I could see using them all to make various afghans. I probably wouldn't make the sampler afghan as pictured in the book, but I'd definitely be interested in re-engineering it to design a new and different blanket. Or a dozen different blankets.
You could actually design bunches of different blankets just by taking one or two of the squares from this book and using them together in different repeating patterns. That's one reason I find this book highly inspiring. A few of these blocks aren't to my taste, but MOST of them are keepers — ones I'd want to use and re-use in zillions of different ways.
I learned quite a bit from my initial read-through of this book. There is a ton of useful information in it. There are some little-known crochet techniques presented in the book that I think you'll be excited to learn about if you aren't already familiar with them. I look forward to working more from this book in the future.
Despite the dated look of the book, I think the material in it is truly worthwhile. And, dated or not, 100 years from now, I predict that it will still be a useful book. It's a shame it went out of print, but I am glad Annie's is still making it available via this CD-rom bundle — and I'm glad I have a copy of it.
50 Ripple Stitches by Darla Sims
Lately, designers in the mainstream fashion and home decor industries have been incorporating zigzags, chevrons and ripples as a major design theme into their work. If you want to use them in your crochet projects, this book will give you instructions for 50 different variations.
60 Ripple Stitches to Crochet by Jean Leinhauser
This book gives you 60 more ripples, zigzags and chevrons to crochet (that's in addition to all the other ripples mentioned above). These ripples were all designed and curated by Jean Leinhauser. Many of them include cluster stitches. You'll also occasionally find puffs, popcorns and interesting textures incorporated into some of these designs. There's some really good stuff included in this part of the collection.
Double-ended crochet is a fascinating variation of Tunisian crochet. When you do Tunisian crochet, you use a long (at least 10 inches long), smooth crochet hook that has a stopper at one end. With double-ended crochet, you use a slightly different tool — one that has hooks at both ends. When you have hooks at both ends, you're able to easily turn the work over and work back across the row. This opens up more possibilities than you have with ordinary Tunisian crochet.
If you'd like to explore the possibilities, one excellent way of doing so is working through the stitches in 101 Double-Ended Hook Stitches. From this book, you'll learn how to do double-ended crochet and you'll find 101 fascinating stitch patterns to practice with. These stitches show off the depth and breadth of the technique, ranging from lace stitches to zigzags to textured stitches.
About the Paperback Crochet Guide Included in This Bundle

Number of Pages: 32 pages

Crochet Projects Included in This Book:
The crochet stitches are the main focus in this product bundle — BUT, you do get several complete patterns for making beautiful crocheted blankets too. There are several different sampler blanket patterns included in the CD-Rom books; plus there are 2 blanket patterns included in the paperback crochet guide. Check 'em out:
VERY IMPORTANT Things to Be Aware of Before You Buy This Bundle
Most of the stitches you'll learn from this bundle are included on the CD-rom but ARE NOT included in the book. If you have a strong preference for using physical books, this bundle might not be exactly what you're looking for. I think it's a fantastic deal, but it's only a great deal for crocheters who are comfortable working from a device like a laptop that has a CD-Rom drive. Before you buy this bundle, you should definitely make sure that you have a working cd-rom drive; otherwise you won't be able to access the books that actually have the crochet stitch instructions on them.
Conclusion
I'm delighted to recommend this book to other crochet enthusiasts, particularly to those who are own a functional cd-rom drive and are comfortable working from an associated device like a laptop computer or tablet.
This bundle is affordable enough even for crocheters on a tight budget; you get a whole lot of material for your money with this purchase.
Where to Buy This Book Plus CD-Rom Bundle:
Similar Crochet Books and Related Resources
This book is included on our list of best crochet stitch dictionaries.
Posted By: Amy Solovay
Page last updated on 6-16-2021. Thanks for visiting!