Get the Free Fabric Crochet Tote Bag Pattern Here!
Related Resources: Free Patterns for Purses, Handbags and Tote Bags | Accessories to Knit and Crochet | Learn All About the Fabric Crochet Technique | How to Crochet Without Yarn
Rag bags have been trendy lately, between the environmental movement, the need for economizing, and the popularity of t-shirt yarn. Rag bags are eco-friendly, and they're also cheap to make — but that's only assuming you are able to recycle old textiles such as sheets for that purpose.
You can make this particular rag bag by crocheting strips of fabric to create a giant rectangle. Next, you fold the rectangle in half, join the side seams, and add the finishing touches — zipper and crocheted purse straps.
As far as rag bag patterns go, this one is an easy one, because you don't have to worry about doing any increases or shaping. The stitch pattern is a bit more interesting than just working straight double crochet. This also gives the bag some extra visual appeal.
This bag can be as colorful and creative as you want it to be. You can use solid fabrics, printed fabrics or any combination thereof.
You could use the finished project as a tote bag, market bag, shopping bag, beach bag, book bag, or all around everyday bag. If you give it a lining and a zipper, it could also be an extra-large purse.
This tote pattern is similar to a rag rug pattern I designed using the fabric crochet technique.
Craft Supplies Needed:
Strips of Fabric: I used about two bundles of Stripz fabric strips. If you're cutting your own strips of fabric, you'll need about 7 yards of woven cotton fabric at about a 46 inch width. To cut down on the problem of frayed fabric edges, it's a good idea to cut your fabric on the bias (diagonally)
I cut my fabric into strips measuring about 1.25 inches high by about 46 inches wide. Then I sewed the strips together end-to-end to make one long continuous strip.
Since my fabric edges were frayed, an additional step was necessary: I folded the frayed edges inward and then stitched all the way down the strip to secure them. Then I wound the strips into a gigantic rag ball.
If your fabric edges aren't fraying, you can skip the extra work of stitching the edges inward.
Crochet Hook: I used a size N – 9.0 mm hook to crochet the sample bag. If you grab a size N hook, be sure to check the size in millimeters to ensure you have the right hook. Not all Ns are exactly the same size.
Rag crochet can be hard on your hands. Be sure you're working with a hook that feels comfortable in your hands as you work with the fabric strips. Change hooks if there's another size hook that would work better for the way you crochet.
Straight Pins: They'll help you achieve professional results when it's time to finish the bag.
Optional Zipper and Lining Fabric: A zipper is optional but highly recommended. Fabric for lining the bag is also optional. I did not put a lining in my bag, but I do recommend lining your bag if you'd like to use it as a purse, or if you'd like to carry small objects like pens or pencils in it. They won't stay in the bag otherwise.
This pattern includes instructions for crocheting purse straps for the bag, but you could also purchase ready-made handles or straps as an alternative.
Gauge:
One full repeat of 3 dc sts + 1 ch = about 2 inches, give or take a bit. With fabric crochet, it's not unusual for your your stitches to be slightly uneven.
Finished Size: My sample tote measures approximately 18 inches wide by 11.5 inches high.
Design Notes:
Starting with row 2, work in front loops only throughout.
If you would like a multicolored bag, there are a couple of ways you can approach it. If you don't mind the color changes being random, you can use various colors of fabric together into the same rag ball. This is how I did mine. If you want more control over where the color changes occur, you can make separate rag balls and then do color changes whenever you want a new color to appear in the design. I haven't written any color changes into the pattern, so feel free to add them to the design wherever you want them.
Make your stitches loose for best results.
The turning chain counts as 1 dc st throughout.
Tote Bag Instructions:
Ch 52.
Row 1: dc in third ch from hook. 1 dc in ea of next 2 dc sts. [ch 1, work 1 dc in ea of the next 3 sts.] Repeat the sequence in brackets all the way across the row.
Row 2: ch 4, turn. The first 3 ch sts count as 1 dc; the 4th ch st counts as 1 ch st. [Skip the next st. Work 1 dc st in ea of the next 3 sts, ch 1.] Repeat the sequence in brackets all the way across the row. End the row with a group of 3 dc sts.
Repeat row 2 until your piece measures about 18 inches. Alternatively, if you'd like your bag to be wider than 18 inches, you can crochet more rows; if you'd like your bag to be narrower you can crochet fewer rows. Of course, keep in mind that a wider bag will require more fabric strips.
End off. You can weave in your ends as usual, and if you like you can stitch them down using a sewing needle and thread for extra security.
When you finish the bag, the piece is going to be folded in half so that the top edge and bottom edge are both folded onto themselves. The edges that were your sides while you were crocheting will be the top edges of the bag when it is finished. The fold line will be the bottom edge of the bag.
Before you sew the sides, you'll want to make the straps and attach them.
How to Make the Straps for the Tote Bag:
The straps are made in one piece. The steps for making them, in a nutshell are as follows: crochet an extra-long foundation chain. Sl st into the first chain you worked to form an extra-large ring. Be careful not to twist your chain. Ch 1, sc in the same st (the first ch of your starting chain). Work 1 sc in ea ch st all the way around. When you get back to the beginning of the round, sl st to join the end of the round to the beginning.
It's up to you how long to make the starting chain. Before you crochet the entire strap, you may wish to work a small sample piece and check your gauge to see how many sts per inch you are crocheting. My starting chain was 160 sts. You might like to have longer straps, or shorter straps, than mine, and your gauge will no doubt turn out way different than mine. Feel free to adjust the length of your starting chain accordingly.
Attaching the Straps to the Bag:
Tentatively wrap the handles around the bag and pin them in place. Re-adjust as necessary; you want to make sure that your straps are spaced equally on all sides, and that both of them will be the same exact length when they are stitched down. If you're going to make adjustments, it's easiest to make them before you begin sewing.
Once you're confident that the straps are placed exactly where you want them, it's time to stitch them down. I used a pseudo whip stitch to sew mine. I did not use a needle to do the sewing, but rather I just used my N hook to draw fabric strips through the stitches on the body of the bag in the same motion that I would have used for whip stitching.
Sew the Side Seams:
I used the same pseudo whip stitch to sew the side seams on my bag. Whip stitch is my preferred joining method, but if there is a stitch you'd rather use, you could try it and see what happens.
When you are finished sewing, weave in all your loose ends, or alternatively you can stitch them down to avoid any unraveling.
Optional Finishing:
You can also add a lining and zipper to the bag if you like.
Decorate Your Home With Crochet
Related Resources:
Posted By: Amy Solovay
Page last updated on 8-10-2021. Thanks for visiting!<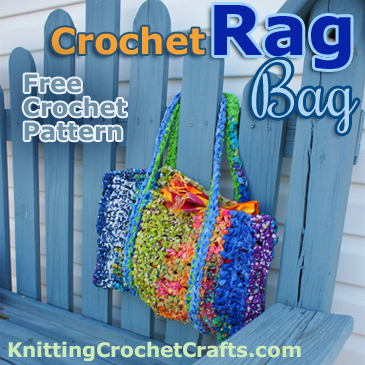 Fabric Crochet Tote Bag: Free Crochet Pattern[/caption]